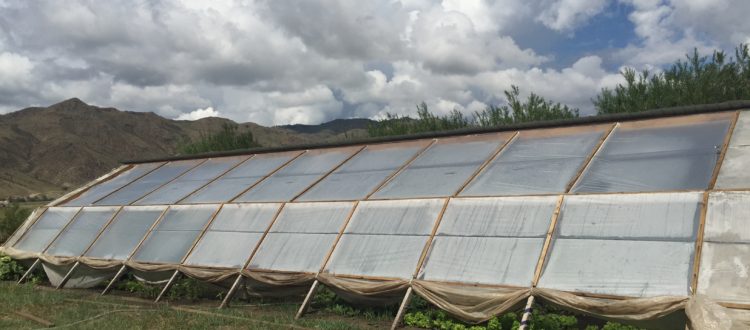 Eco Green Project – Cooperation of Anja Camp with GERES NGO
Passive Solar Greenhouses have been the big topic at our Anja Ger Camp eco project. In 2016, the camp joined forces with the GERES NGO that focuses on providing solutions for housing and agriculture. The result has been the Eco Green Project thanks to which a three-season greenhouse was successfully built at Anja's. Now we are able to have fresh vegetables, such as salad, cucumbers, tomatoes, radish or paprika, from June to October, all to be enjoyed by our guests.
About GERES
Central Asia has an unforgiving continental climate with dry summers and very harsh winters. The countries in the region face many energy and food crises. GERES' solutions mainly focus on housing and agriculture: energy-saving for homes, low-energy cooking and heating appliances, and support for family farming through improvement of farming techniques.
Mongolia experiences long and very harsh winters that restrict the farming season to three or four months per year. However, the country enjoys significant sunshine, earning it the nickname "the blue sky country". GERES has been present in Mongolia since August 2010 to help develop the production of vegetables in urban and rural areas through the implementation of projects including:
• Innovative technical solutions to extend the growing season (passive solar greenhouses) and improve the storing of vegetables (bio-climatic cellars) in order to help families make savings. These techniques are adapted to the local context and designed to be built directly by the producers.
• Trainings on agricultural techniques and water and soil management with an aim to diversifying the crops and increasing the yields while preserving natural resources in the meantime.
• Support for the sale of vegetables and the integration in the local market to improve the family incomes.
• Education to introduction of vegetables (sometimes unknown by the population) in the daily diet allowing the diversification of meals and improving the global food balance.