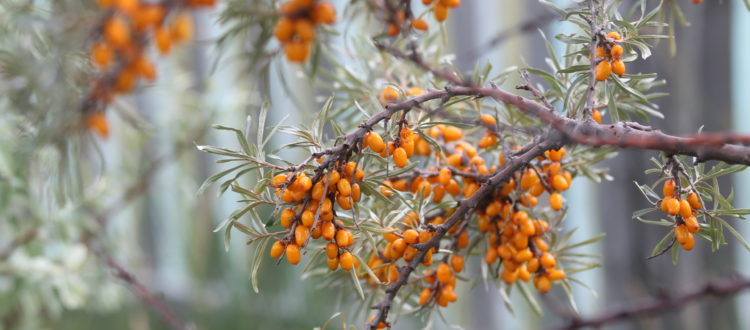 Sea Buckthorn Trees and Products at Anja Camp
Committed to ecological and environmental projects, Anja Ger Camp eco project is dedicating time and energy to grow Mongolia's super-plant – the sea buckthorn.
Known botanically as hippophae rhamnoides, sea buckthorn has many medical properties: anti-inflammatory, antimicrobial, pain relief, and promotion of tissue regeneration. It is rich in vitamins C and E, antioxidants, and essential fatty acids. Both the berries and the leaves are made into beverages, jams, cosmetics and animals feeds as well as pharmaceuticals that have been tested via clinical trials not just recently but also in Russia in the 1950′s. More than ten different drugs have been developed from sea buckthorn in Asia and Europe and are available in different forms such as liquids, powders, plasters, films, pastes, pills, liniments, suppositories and aerosols.
Besides the health benefits, the sea buckthorn is good for the environment. As reported in a report by the Global Facilitation Unit for Underutilized Species (cgiar.org), in large areas of northern China and Mongolia the sea buckthorn has been developed into a major environmental resource. Many areas, in fact, have become virtually treeless, even though they were once forested. Soil losses have been huge, and several previous attempts to grow various trees to hold down the soil have been unsuccessful. Sea buckthorn has turned out to be useful because it withstands severe weather and grows huge root systems in poor soil (and fixes nitrogen in the soil). For many animal and bird species, sea buckthorn is an important source of food or provides shelter. In Mongolia, several wild animal species have found a habitat in the sea buckthorn forest, including pheasant, hare and fox.
At Anja Ger Camp, apart from sea buckthorn trees, you can also find locally-made products from this wonderful plant including cream, liqueur, organic juice, organic oil or sea buckthorn tea.