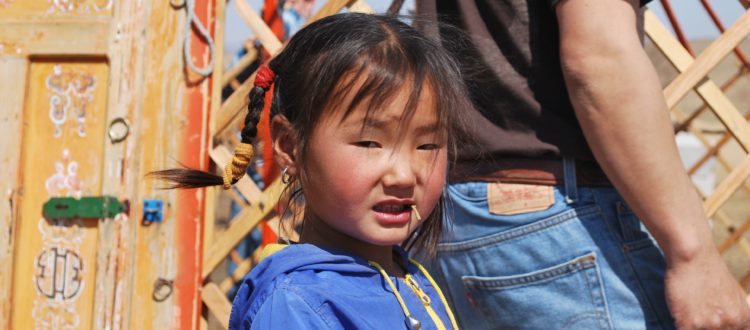 EDUCATE – New Schools for Nomadic Families
All kids should have access to education. We can all agree on that. But in the vast steppes of Mongolia, it is neither commonplace nor easy to effectuate. It takes commitment and effort of a number of local stakeholders to make a meaningful education project happen and work. Four years ago in 2014, Out of NowHere decided that we wanted to be a committed stakeholder and contribute to providing regular education for the kids of nomadic families in Central Mongolia.
Frederic Roman-Hauduroy and Soyolmaa Jigjidsuren met with Alain Grosman, a french humanitarian activist, to search for possibilities and solutions. After exploring the country and meeting with local authorities, non governemental organizations and institutional players, they concluded to start a new EDUCATE project in Mongolia. The main idea was to build "school under yurts" for nomadic familes. The EDUCATE mongolian association was founded in Mongolia together with its international partner in France. Out of Nowhere has become the main local partner of this project, assisting financially as well as with management of the local association, communication, transportation and accommodation.
The first school under yurt was built in Bat Ulzii in the magnificent Orkhon Valley, followed by a second school in the village of Shank in the proximity of Karakorum. After three years of intensive work and collaboration, we are proud of the great job that has been done locally, and thankful for the support of the Mongolian Ministry of Education, the UNICEF, the Uvurkhangai Region and local sums. Thanks to the commitment of all parties involved, a third and a fourth school are going to be built already this year, thus widening the access to education for even more nomadic kids!
To further deepen our responsibility towards this project, Out of NowHere will allocate 1,000 MNT / bednight in 2018 to support EDUCATE. We would be happy if you joined our efforts! Get in touch with us to learn more about the various options of your own contribution.
Have a look at the video below and see how the first school under yurt was being built and visit the website of EDUCATE (French version only)