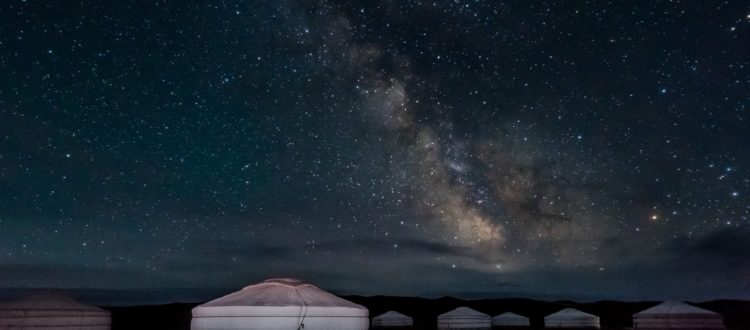 ASTROMONGOLIA – EXPLORING MONGOLIAN SKIES
In Mongolia, we have one of the most beautiful night skies of the world right above our heads. To star gaze while feeling the vast wilderness of the Mongolian steppe is an extraordinary experience. But it's more than that. For centuries, star gazing and astronomical observations have been an essential part of the culture of our nomadic nation. Navigation and localization, weather predictions, or time and date determination used to be possible only thanks to the deep knowledge of the skies. And this knowledge has been passed on from generation to generation. Now, when the technology for astronomical observations has achieved incredible progress and precision, it would be a shame not to explore further.
That is why Out of NowHere has started a project called AstroMongolia. For four years, we fully financed a scientific mission organized in cooperation with Uranoscope de France. Several post doc students came to stay with us at our Ursa Major Geolodge in the Orkhon Valley, the UNESCO World Heritage. They had a chance to study contemporary Mongolian cosmogony directly on spot, and also to observe the stars with our fantastic MEADE telescope, the biggest privately-owned one in the whole country.
However, we have also wanted the locals living in the Orkhon Valley to benefit from this project. With this goal in mind, we established a collaboration with the school in the village of Shankh so that the knowledge and the excitement for modern astronomy could get passed on to their students. We were also visited by the kids from the school in Khujirt at our camp. We took some astronomy classes, learned how to operate our telescope, and did a bit of star gazing together.
Our guests profited from the project as well: While the post doc students from the scientific mission were staying with us, our guests could enjoy free astronomy lectures in the evening. Thus, they could not only marvel at the beauty of Mongolian skies but also get a bit of understanding of what they were looking at.
Recently, we have joined the Stellarium network, and we are now looking for new opportunities to extend the AstroMongolia project. We are considering different options of support and collaboration so that eventually we can propose real astronomy-based travel, similar to the ones in the Atacama desert in Chile. Wish us luck on our space journey!
Have a look at how we spend time with our visitors from Khujirt: